Alec Stoddard
Performance Artist
Videography by Orion Alvarado and Editing by Meghan Robertson, 2023
Alec spins on chains by holding one side of each loop, allowing them to open like moth wings on either side of him. Red light washes over his black costuming, shining darkly off pieces of leather.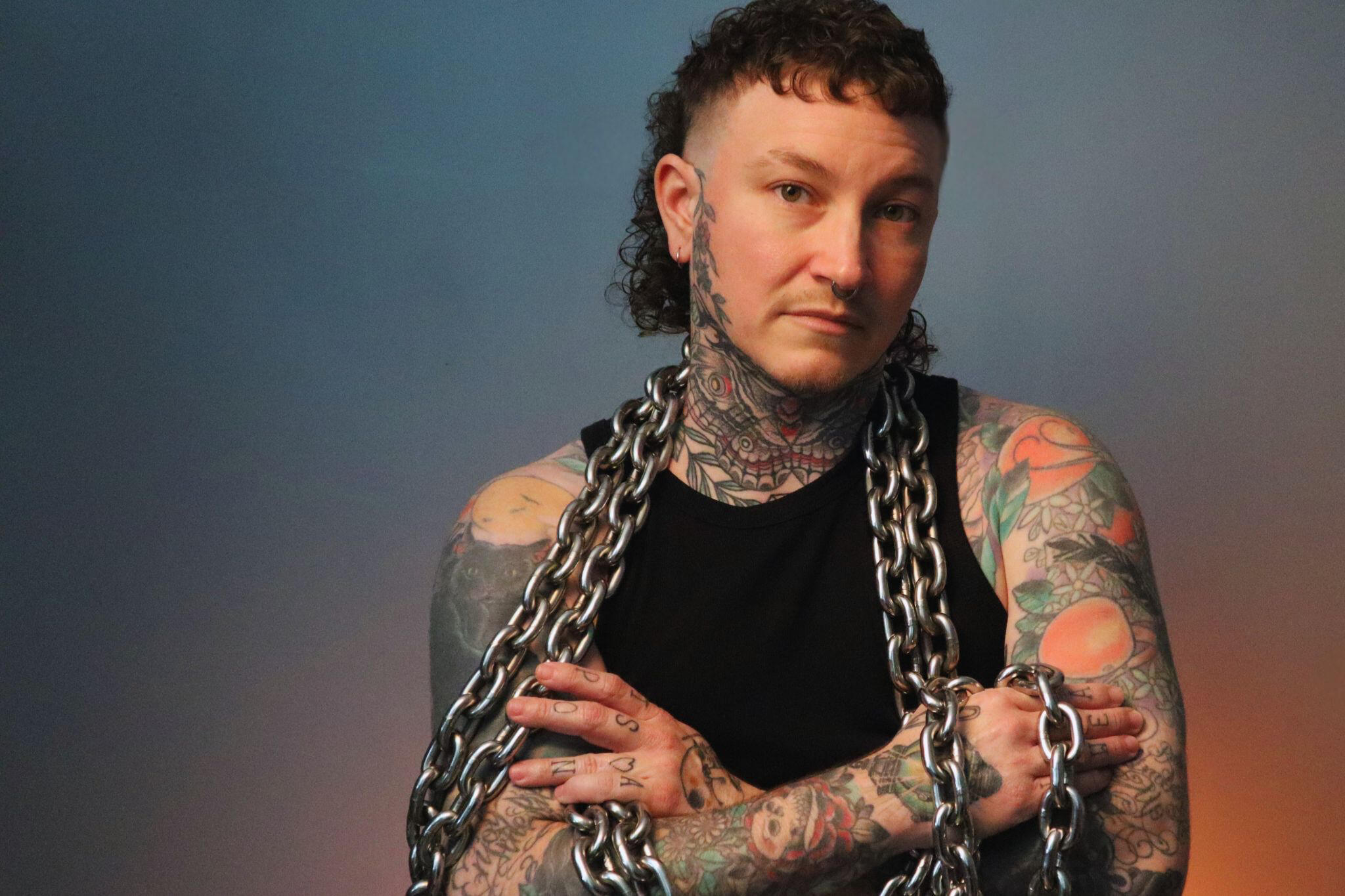 Who am I?
he/they
I'm a genderqueer trans performance artist exploring themes of identity construction, body sovereignty, and kinesthetic strategies of queer survivance through the spectacular body. Since 2020, I've investigated the relationship of performer to object, using my body in various stages of modification and its changes in response to outside forces, both tangible and intangible, organic and systemic.Self portraiture and glitched editing, 2023
A warm-toned headshot of Alec, a light skinned queer person, looking directly into the camera with a neutral facial expression and sporting red winged eyeliner and a silver septum ring. Their gray suit jacket has red accents and white pinstripes and reveals his chest, neck, and face tattoos. His brown hair is styled in a curly mullet, the sides closely shaved. The background is red and has glitched slices of the same image appearing from behind Alec's unaltered head and shoulders.
Why chains?
I was drawn to work with chains in 2016 because of the support and weight elements. Being hung in two independently swiveling loops allows them to support my body, and their weight provides excellent proprioceptive feedback. Over time, I realized these elements allow me to create movement using a bottom-up process, leading with individual tactile and equilibrative cues toward a broader shape or phrase. I was tasked with creating from sensation, rather than syllabus, maintaining the potential of unconditional pleasure decoupled from normative expectations. Put simply, it centers me and my desires.Photography by Anna Cicone, 2023
A full-body portrait of Alec, a genderqueer trans person, on aerial chains looking down and out at the camera. He is wearing dark red pants and no shirt, showing tattoos on his light skin from ribcage to chin, as well as their top surgery scars on their chest. His bodyweight is supported on one hip in a looped chain and upper body torsioned around the chain for balance. One foot is pointed forward for balance, the other one bent back at the knee. One hand is in front of the chain he's balancing on, and the other hand holds the other looped chain away from his body.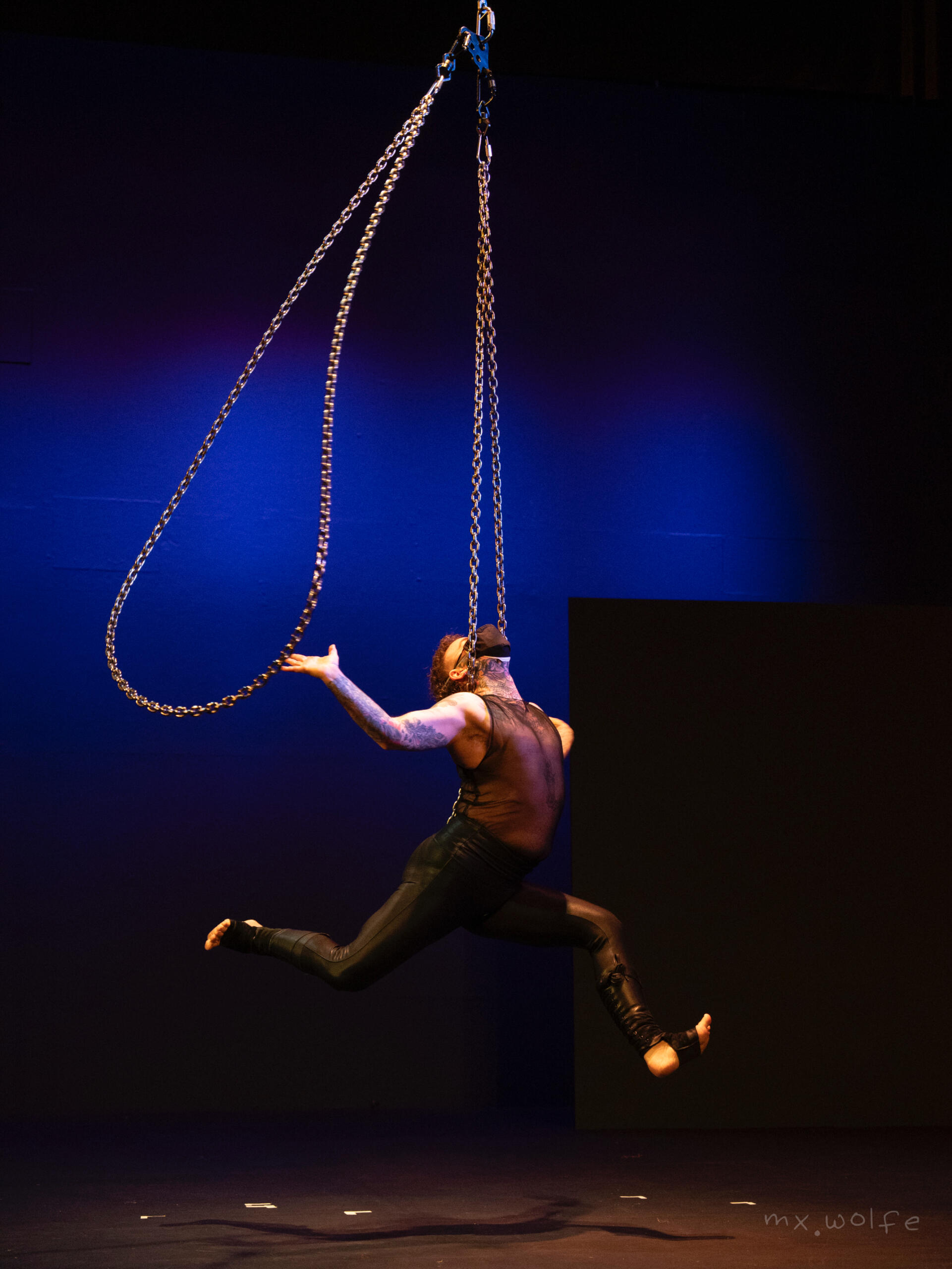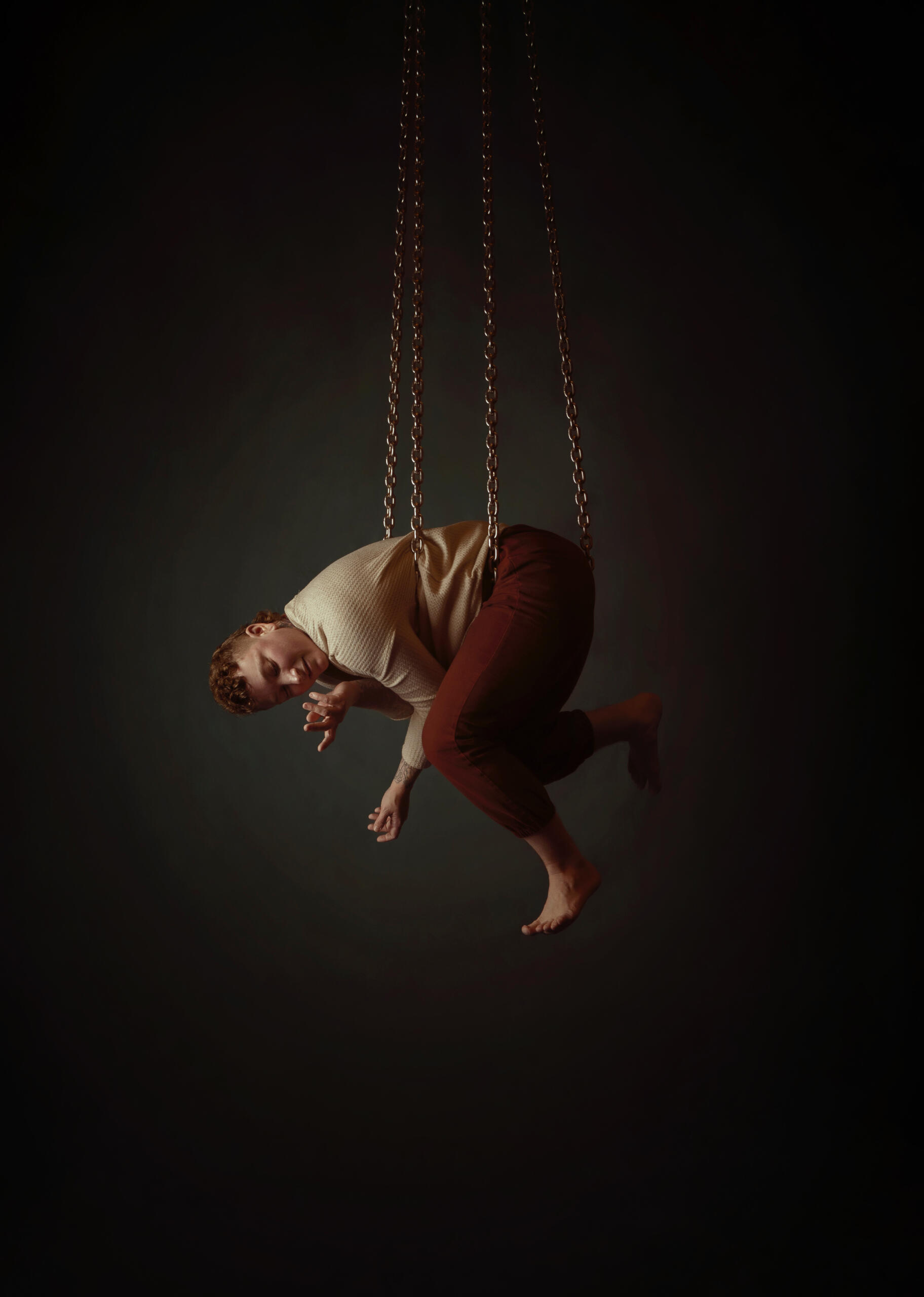 What is my work about?
The sensation-based partnership I employ with looped chains approaches circus as a physical thinking exercise and the acrobatic body as a contemplation for euphoria-led guidance. With a diverse onstage background ranging from concert bassoonist to fetish artist to finally aerialist in 2013, my work has consistently straddled the worlds of low-brow underground and contemporary fine art. My current work in progress, QUIET, is a multidisciplinary collaboration intersecting queer survival themes of disguising risk and code-switching with bliss-centered body autonomy and transgression as a mode of liberation. QUIET reflects on the multitudes of the queer body: "the conditioned body, the spiritual body, and the body I am destined to be." -Jose Richard AvilesPhotography by Anna Cicone, 2023
A studio portrait of Alec from the side, draped face-down over aerial chains. He is wearing dark red pants and a cream-colored shirt, and their bodyweight is supported on one hip in a looped chain and his chest in the other. Their face is turned toward the camera with downcast eyes and hands rising up to frame his face. With knees bent and feet flexed, they contract over the chains in a ball shape, meeting elbows to knees.
Telling queer stories with my trans body and other objects.
My Arms Bend Back
Full performance shot by Orion Alvarado and edited by Meghan Robertson for Circo Sereno at The Aerial House, Los Angeles/ Tovaangar, 2023
I'll See You in 21 Days
Self-shot movement work using limited mobility due to gender affirming surgery and sheer shirt as object, 2022
Sonder
Short film created with Rudy Torres, 2021
I was looked at, but I wasn't seen.
Albert Camus, The Misunderstanding, 1943
Self portrait photography, Triptych, 2022
Exhibited digitally in Perceive You 2 at Shoebox Projects, Los Angeles/Tovaangar
Three sets of two superimposed images show different emotions in the way Alec's holding his body. In all, he is seen from the waist up and shirtless, sunlight flitering into scene irregularly. First, they are looking directly at the camera, with hands clasped tightly near their face, superimposed with a similar shot of their eyes cast down. Second, his eyes are closed and brow furrowed, hands on hips, superimposed with a shot of him with arms raised behind his head, face upturned and joyous. This image is more warm in tone than the other two, which are cool and blue. In the last, Alec pushes their open hands to their face, covering most offit, superimposed with a similar shot of their head tilted slightly differently and their hands now only covering their mouth, eyes looking directly into the camera.
© Alec Stoddard
Tovaangar/Los Angeles